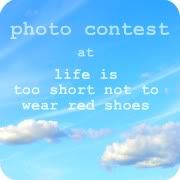 Below are my entries for the portrait photo contest that
Polka Dot
is hosting. Please be sure to check it out as there are some really amazing prizes offered!
This is my youngest sister, Ellie.
This is my second to youngest brother, John.
Ellie, John, these are my blog readers. *round of handshakes commence* Sure glad to know you.
And now that the formalities are over, I'm off to a (Lord willing) productive day. My night was quite productive, let me tell you. I dreamed I was saving the world's little creatures. Mice that were being swept away by a river of water that gushed from the garden hose, bass fish that had somehow ended up in the chicken coop and were being pecked to death--I saved them all.
Now that's what I call productive.
Either that or I just have very odd dreams. Let's go with the former, shall we?